As the latest housing market data shows, the anticipated fall in the price of new apartments did not happen, and in all likelihood will not happen. There is no space for a fall in prices across the board due to rapid rises in the costs of almost all inputs, insufficient approval numbers for new apartments and a weakening of supply as a result of projects being postponed.
The new apartments housing market is to stagnate this year and next year, but remain stable. We can expect a slight recovery next spring, with a greater recovery only happening with cheaper mortgages with interest rates of around 3 %, which is expected in 2024. This is the message of a market analysis published today by Trigema, Skanska and Central Group.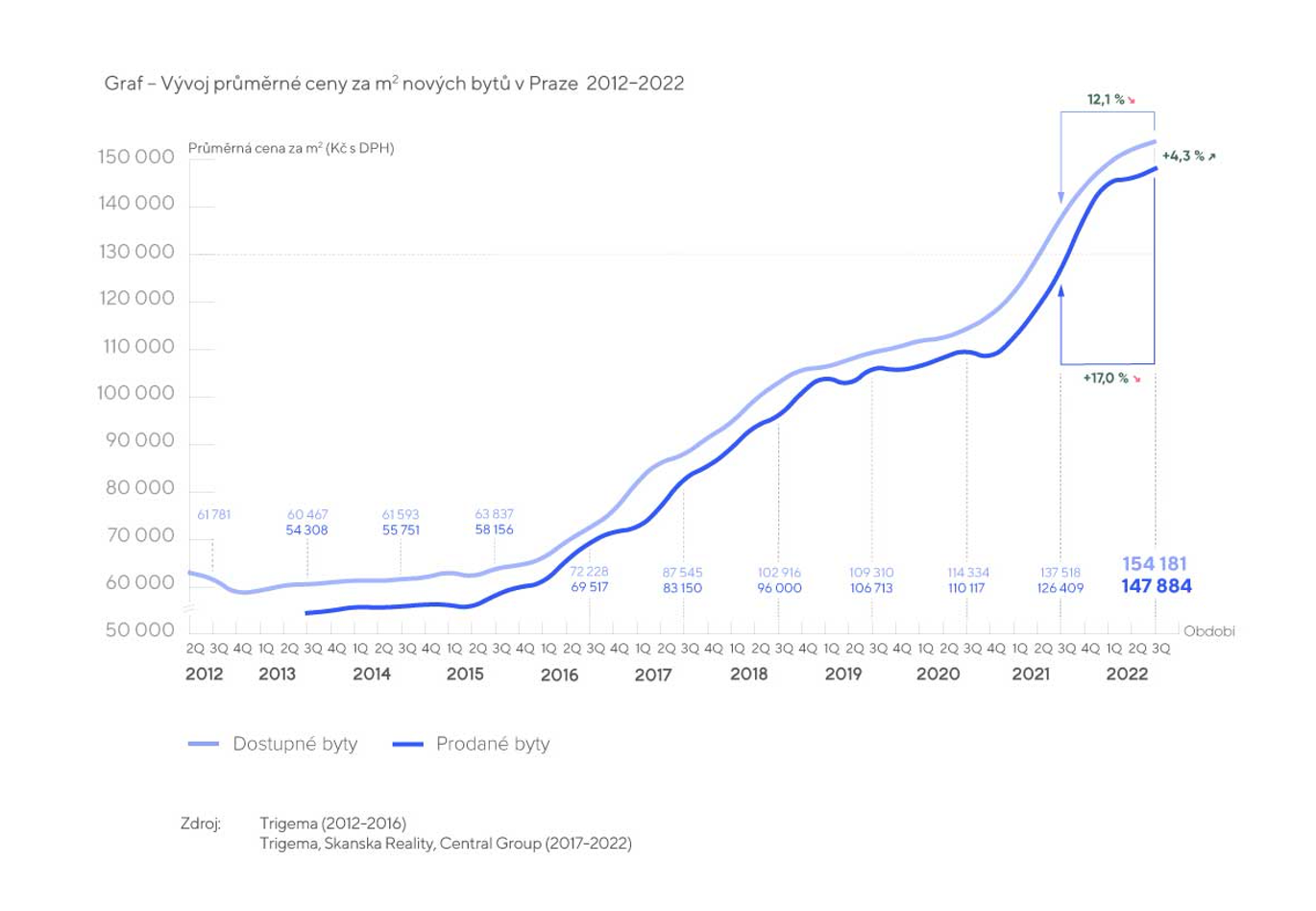 The latest data shows that the prices of new apartments in Prague have continued to grow in the third quarter. The average sales price reached 147,884 CZK per m2, with a bid price of 154,181 CZK per m2. This is a 17 % and 12 % year-on-year increase respectively. Despite much expectation, the prices of new apartments did not fall, and it is unlikely that they will fall across the board in the periods to come. The reason for this is the sharp jump in almost all costs, recently in energy and construction materials especially, long-term insufficient numbers of approvals granted for apartment construction and the limited supply, which will be further weakened as a result of the postponement of new projects due to uncertainty on the construction market.
Prices for new apartments will therefore in all likelihood stagnate in upcoming periods, settling at a level of around 145 – 150 thousand CZK per m2. A slight fall in prices is likely, however, for older apartments. This will therefore result in an increase in the price difference between newbuild and older apartments, and this will reflect the better quality standard and improved energy performance of newbuild compared to older apartments.
"Prices for new apartments in Prague grew by just under a fifth year-on-year, but this year is seeing price stabilisation, with growth not exceeding even 2 % since the end of the first quarter this year. We do not see space for a fall in prices of new apartments, however, mainly due to the unprecedented rise in the costs of key inputs such as construction materials, energy and land, and nor is any streamlining taking place of lengthy approvals processes in order to consistently add to the supply of new projects. The current uncertainty, fears of further increases in costs and the postponement of projects may well find themselves reflected on the supply side alongside the lengthy approvals process, and so also on prices in future," says Petr Michálek, Chairman of the Board at Skanska Residential a.s
Cheaper mortgages will lead to a recovery in sales
550 new apartments were sold in Prague in the third quarter, representing 42,1 % fewer compared to the previous quarter. Since the start of the year, 2,550 apartments have been sold so far, significantly fewer compared to the same period last year. This large year-on-year difference is also the result of a high base for comparison, with last year's 7,450 apartments sold a record figure. Compared to the long-term average, it represents a fall of around a third.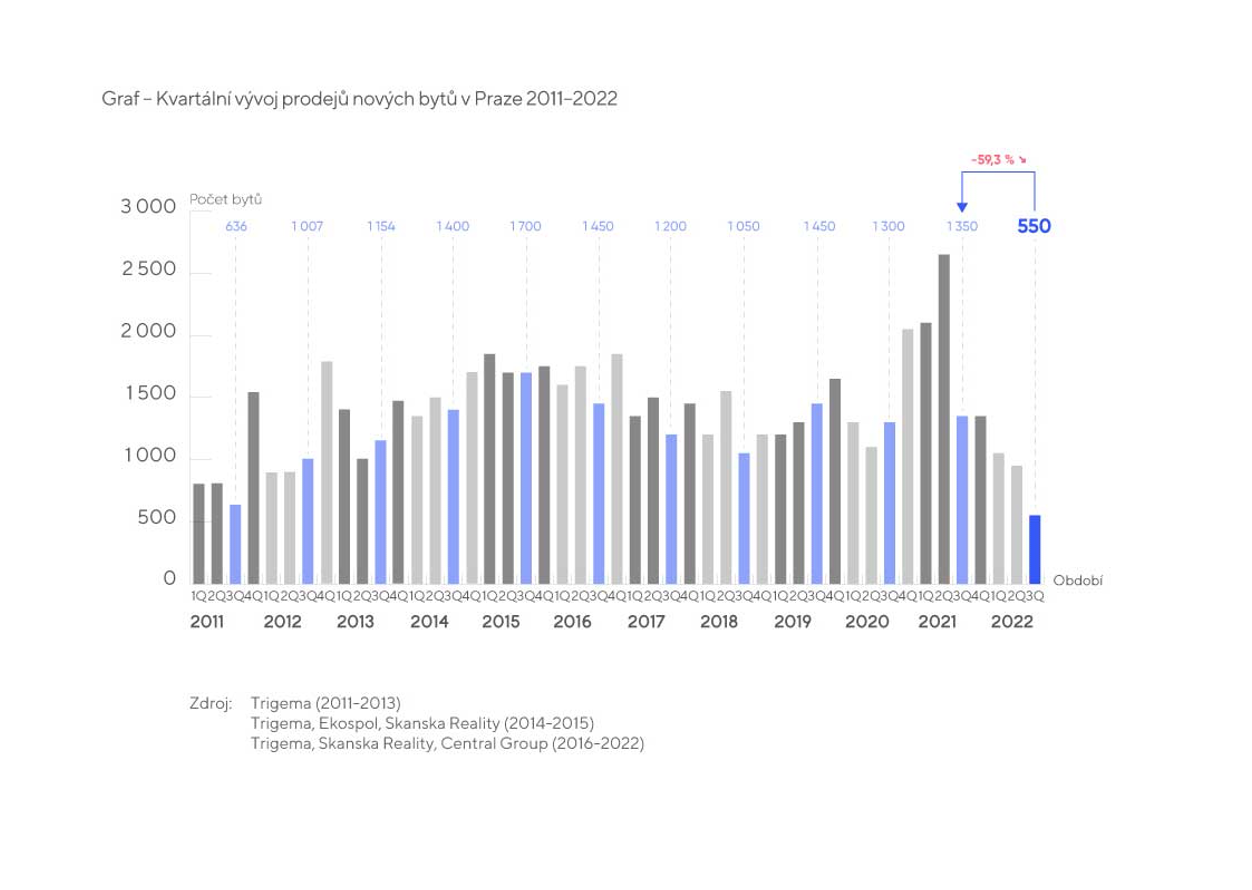 Sales fell mainly as a result of mortgages being much less accessible, three times more expensive compared to a year ago, as well as great uncertainty regarding the future direction of the economy. There is a still high demand for new homes, but under the current circumstances purchase decisions are being postponed until the situation stabilises and interest rates fall. Next spring should see a slight recovery in sales once winter has passed and the current shock has been dealt with. More significant market recovery will only come once interest rates return to 3 %, something which should occur in 2024. Until that time, the market will remain stagnant with sales likely remaining only at the level of 3,500 – 4,000 apartments sold per year.
"The fall in sales is almost a complete copy of the fall in mortgages. The market really has stopped, but it is only a temporary halt. People with money are logically waiting at the moment, but they will then be looking for a safe investment for their savings to protect them against depreciation through inflation. And as history shows us – real estate remains one of the safest commodities, with the price of apartments consistently growing for 20 years," says Marcel Soural, Chairman of the Board at Trigema Investment Group.
Supply of new apartments to stagnate or fall
At the end of the third quarter, there were 4,700 new apartments available to purchase. This represents 13.3 % more compared to the second quarter this year, and 70.9 % more compared to the third quarter in 2021, when the supply reached its lowest ever figure.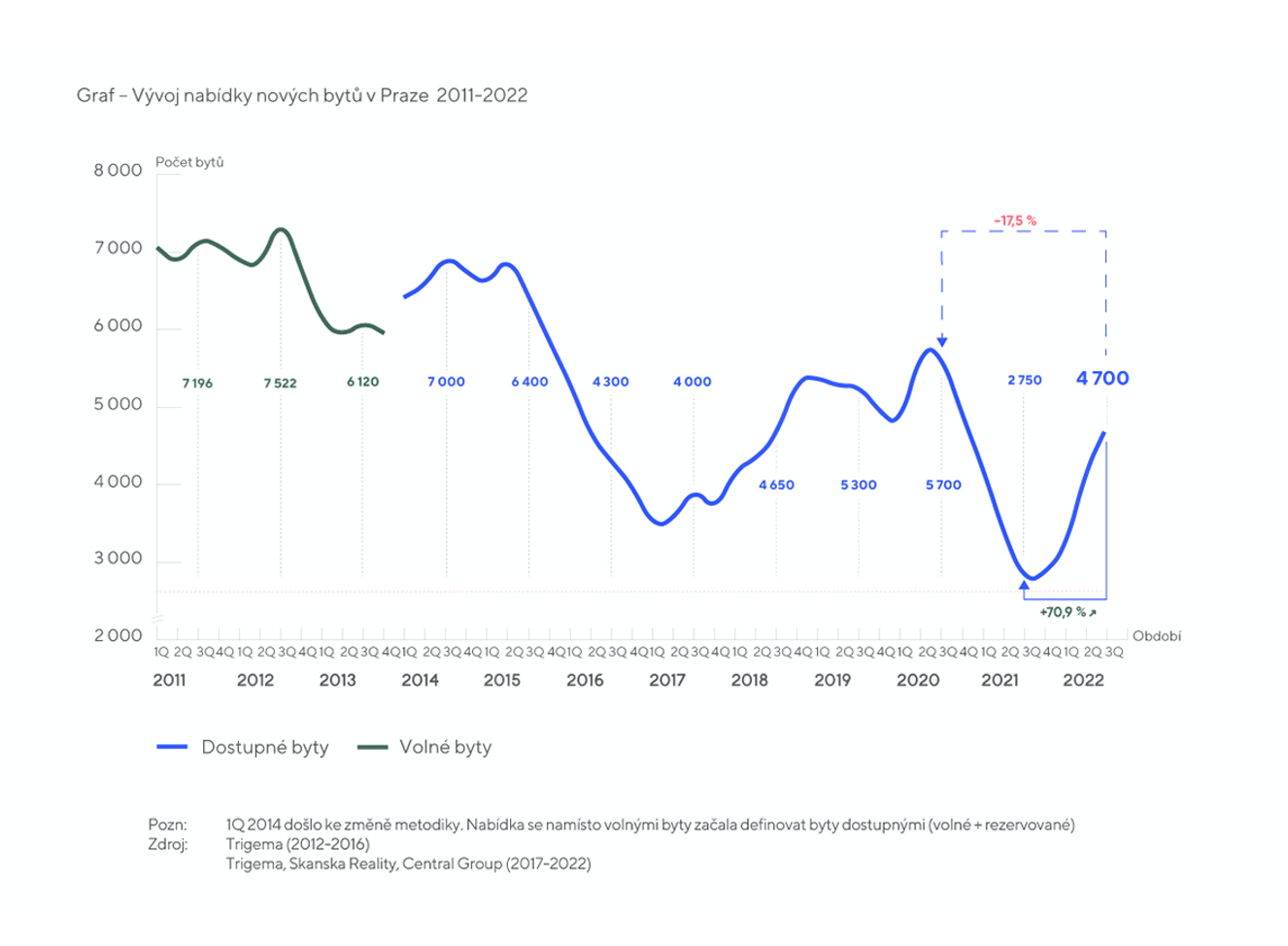 The upcoming period, however, will likely see a fall in supply. There remains an insufficient number of approvals being granted for apartments. From January to August this year, just 3,252 apartments were granted approval. This rate is equivalent to only around 5 thousand apartments annually, or roughly half of what the capital city needs each year. As a result of the poorer economic situation, there will also be fewer projects on the market.
"Construction costs have dramatically increased. This is exacerbated by much more expensive financing, general uncertainty on the market and a fall in sales. This has led many investors to stop work on, or postpone their projects, waiting until the situation stabilises to launch them onto the market," concludes Dušan Kunovský, founder and head of Central Group.