The year-round magic of Monínec
Monínec. A name that hides the intoxicating scent of summer evenings, quiet moments for two, the intimacy of time with family, the carefree joy of sport, and the unique romance of Christmas under a winter sky.
| | |
| --- | --- |
| Bed capacity | 250 |
| Conference capacity | up to 430 people |
| Accommodations | 3 categories (Hotel, pension, apartments) |
| Cableway | 1,2 km (capacity 2400 pers. / hour) |
| Length of slopes | 2200 (blue / red) |
| Other services | Wellness, children's activities park, ski school |
Our Areál [Complex] Monínec is located in the heart of Česká Sibiř [Czech Siberia], 80 kilometres from Prague. In addition to first-rate accommodation and services, it's also a story of a great dream, courage and determination. 27 years ago, the Krejčí family, which makes sure that you want for nothing in Monínec, literally saved the complex from demolition. Since then, thanks to its cosiness, family atmosphere and excellent accommodation and services, Monínec has become one of the most sought-after recreation complexes in the entire Czech Republic.
In summer, the "Alpine" Monínec complex transforms into a magical place for a family holiday, and an ideal location for cycling, hiking or relaxation. In addition to beautiful cycling and hiking trails, it also offers visitors the comfort of a private outdoor pool with a whirlpool and a beautiful view of the landscape of Český Merán, romantic swimming in the Pilský pond, a large Activity Park where the entire family will find entertainment in countless attractions, its own bike park for experienced riders, beginners and children, and a generous supervised children's playroom.
www.moninec.cz/en/
A complex full of fun and relaxation
The magic of Monínec
Monínec is synonymous with cosy accommodation, a family atmosphere and first-rate care. What does Monínec offer that's of interest to you?
We understand children and their parents
In Monínec, we like children. That's why we came up with Terasy Monínec, a place that provides a cosy summer family environment. Both adults and children will enjoy the outdoor pool with a countercurrent, a whirlpool and a beautiful view. Children will also be pleased with the large modern playground, in which they'll find climbing frames, swings, climbing walls, a slide and other fun elements. Parents, on the other hand, will appreciate the adjacent Café Bar Terasy, where they can enjoy good food and drink while watching their children play in peace.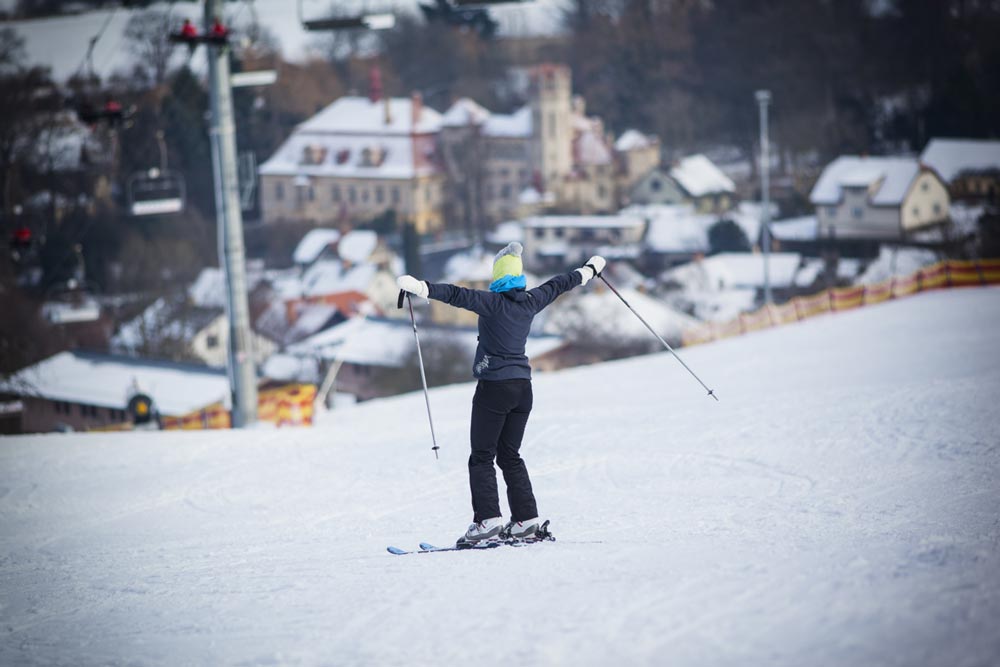 Alpine skiing near Prague
Our piste offers skiers 1.2 km of downhill skiing, and and we tidy it up regularly using two snowcats. Comfort, without queues, is also ensured by the 4-seat cable car, with a transport capacity of 2,400 persons per hour, which we operate in both winter and summer. In the upper part of our piste, we have a 600 m long t-bar lift, which increases your skiing comfort. We constantly add snow to the entire slope, and we illuminate it for lovers of romantic evening skiing.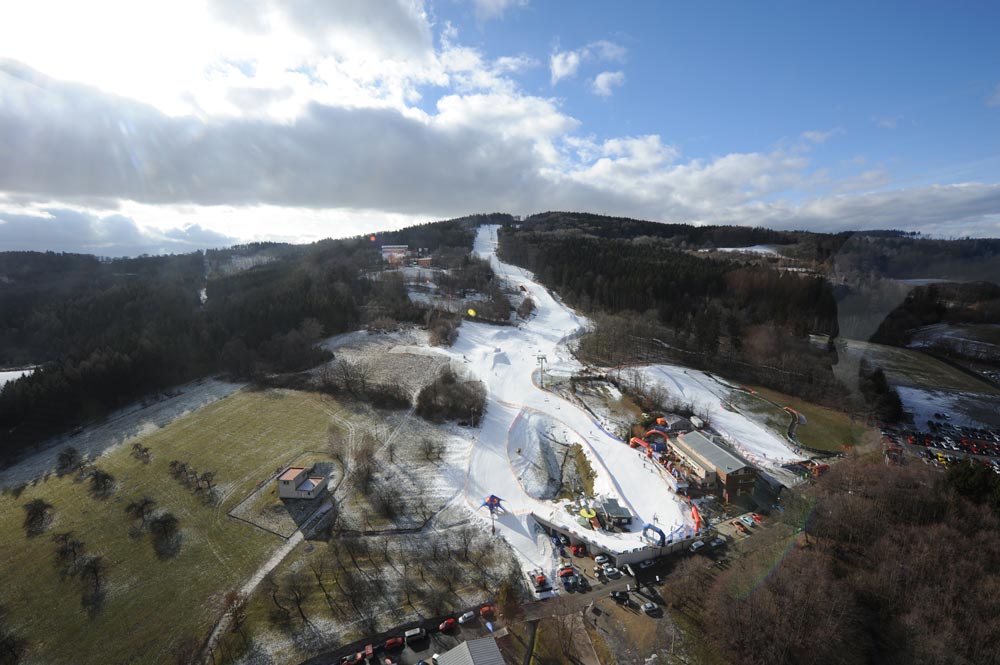 A snow kingdom in any weather
You no longer have to watch the weather forecast, and worry that you'll have nothing to ski on during a warm winter. In Monínec, we have snow all the time. Seriously. In 2016, we equipped the complex with a special Snowfactory device, which uses special snowmaking technology to produce snow at temperatures of up to 15 °C. (Yes, you read that correctly) We use only water and air to make the snow, so you don't have to worry about any chemicals.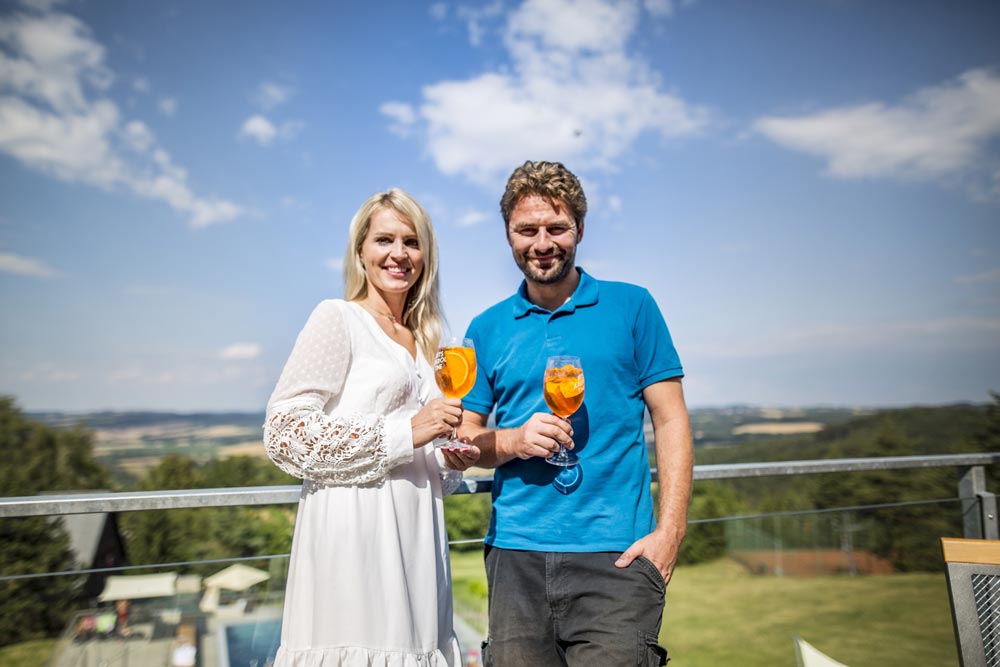 Excellent food and staff
Monínec is close to our hearts, and we want you to feel at home with us. This wouldn't be possible without satisfied employees, which is we take care of our colleagues, who in turn take care of you. Our services are renowned for their family-friendliness and flawless care. We're happy to fulfil all your wishes. Our chefs are masters in their field and, what's more, they cook with a love for their craft and for people. Therefore, dishes made from fresh seasonal ingredients, which together with the culinary art elevate gastronomy in Monínec to a special experience, are matter of course. But don't take our word for it – see for yourself.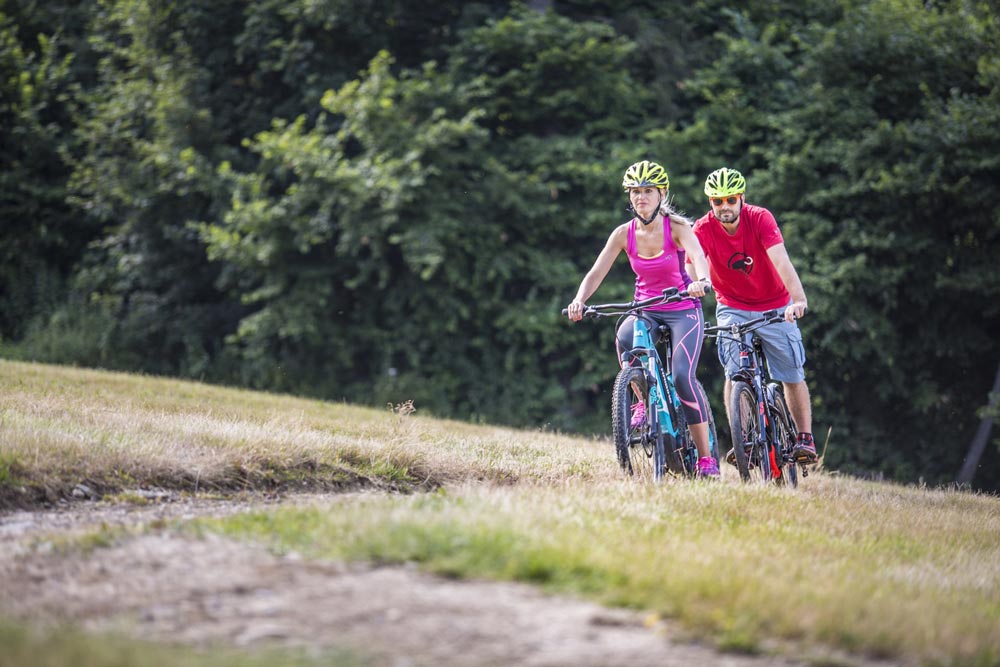 Activities throughout Toulava
Do you sometimes need to clear your thoughts completely? We understand you! Monínec is an ideal place for such mental relaxation. In addition to magical nature, we have more than a dozen summer and winter activities throughout the complex for you. Do you need to just rest and do nothing at all? Here, too, you have our complete understanding. Come and enjoy relaxation in our wellness centre, complemented by the most beautiful view of the Český Merán valley.