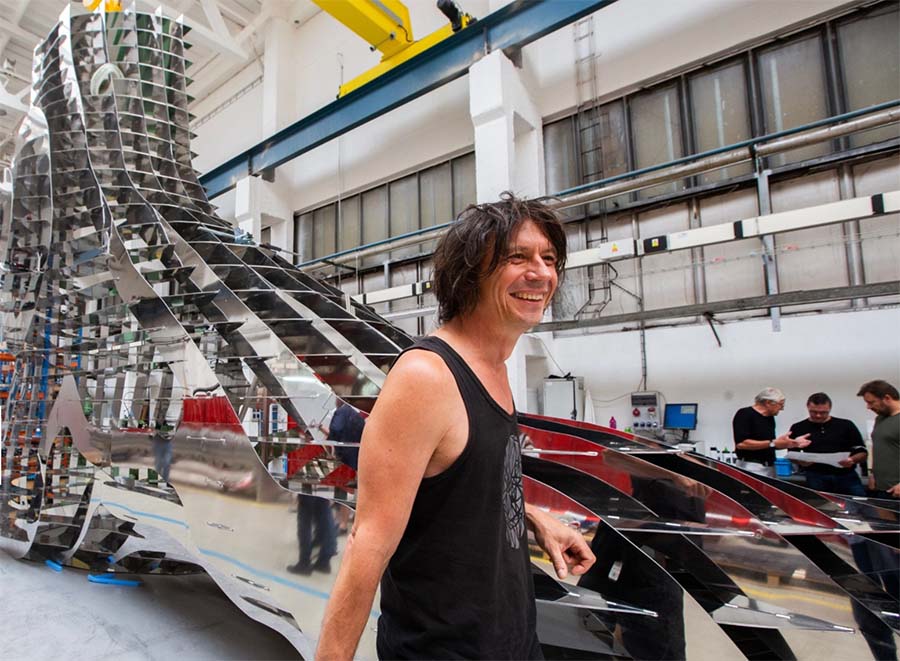 Umělec David Černý už dává dohromady sochy, které obklopí budovu Fragment v Karlíně. Tu staví Trigema za 1,25 miliardy a dokončit ji chce příští rok v říjnu.
Rezidenční projekt Fragment, který teď Trigema buduje v pražském Karlíně přímo naproti historické Invalidovně, mohl stát ve výsledku o nějakých 300 milionů méně. To by ovšem nemohly dům obklopovat sochy Davida Černého.
Marcel Soural si ale řekl, že chce dům postavit jinak, a tak nyní Černý postupně vytváří tři torza a jednu pětadvacetimetrovou postavu, které budou budovu podpírat. "Celý ten dům je v podstatě taková stylizovaná ležící postava. Další postavy a jejich části jednak reflektují místo, které se váže k historické budově Invalidovny, jednak znázorňují podporu jednoho druhým. To nás jako lidi odlišuje třeba od hmyzu. Lidé jsou schopni se vzájemně podepřít," popisuje svůj umělecký záměr Černý.
Sochy, které teď tvoří, začnou na pozemku postupně přibývat příští rok v červnu. V tu dobu už bude budova, kterou spolu s Černým navrhlo architektonické studio Qarta, téměř hotová. Největší, pětadvacetimetrovou postavu navíc plánuje Trigema k budově připojit v celku. "Nejprve ji smontujeme a pak ji celou připojíme k objektu. Takové výzvy nás baví," popisuje Soural spektákl, na který se má Praha připravit.
Do Fragmentu chystá developer 140 nájemních bytů, které budou našlapané technologiemi. Například aktivními stropy, které budou byty chladit i vytápět, fotovoltaikou nebo chytrým systémem, který může třeba automaticky zapnout televizní zpravodajství, jakmile nájemník vstoupí do bytu. Jednotlivé byty chce Trigema začít nabízet na přelomu roku, kdy už má být také kompletně hotová hrubá stavba. Na unikátním domě si chce Soural otestovat český trh. A stejně to vidí i sochař Černý. "Uvidíme, jestli chce člověk existovat a bydlet v něčem, co je více zajímavé a odlišné," říká.
Zdroj: Forbes Focus