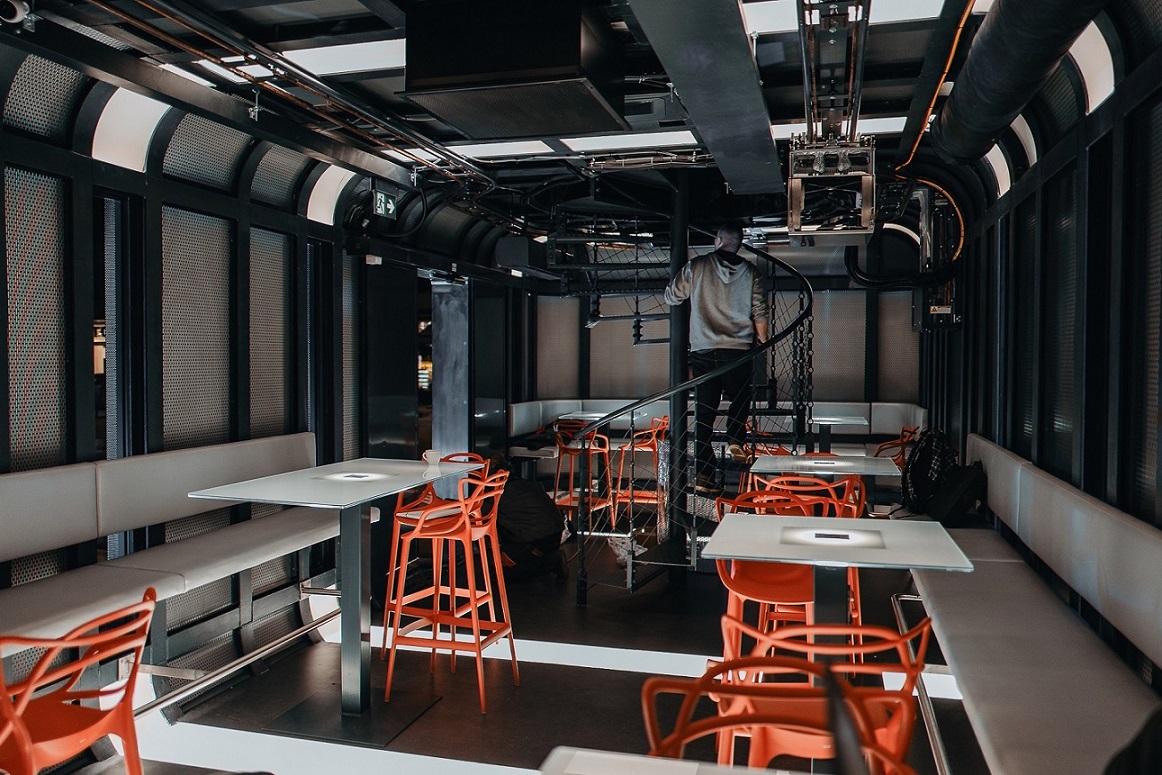 "It's coming also from the vision of Marcel, the owner of Trigema. He's pretty convinced that robotics and artificial intelligence will be the main theme of the 21st century. This is officially an educational robotic centre, and what we are showing is how we think it will happen very soon – that robotic bartenders will be in place very soon," said Tomáš Císař (Black N´Arch studio).
You could be forgiven for mistaking the CyberDog Technology and Information Centre on the outskirts of Prague for a "wine bar", the futuristic two-storey structure housing it for a "building", and the resident bartender named "Kuka" for a hermaphrodite robot. Such is the nature of the first project to be realised by the Black N' Arch studio, co-founded by conceptual artist and sculptor David Černý.
Few would associate Nové Butovice with the avant-garde. Yet this Prague 13 neighbourhood – home to some of the last drab concrete housing estates to be built under communism, and to more than its fair share of unimaginative glass-and-steel behemoths to arise under capitalism – is the site of a ground-breaking project mixing robotics with mixology.
David Černý, who first came into the public eye in 1991 after being arrested for painting a Soviet tank pink and is perhaps best known today for his giant babies on the Žižkov TV tower, explains how CyberDog came into being.
Spoiler alert: there was alcohol involved. Also, listener discretion is advised: the artist is not one for censorship, linguistic or otherwise.
"I was asked by the owner of the developer Trigema three, almost four years ago, if I'd be willing to do a piece here for the square in Nové Butovice. And I didn't have a f***ing clue where – I knew it was somewhere north of where I work in Smíchov. I came here… and I did not like the space."
But while he has not grown to love Nové Butovice, he did create a kinetic sculpture for the pedestrian zone outside its eponymous metro station. Called "Trifot", the 12-metre-tall statue is modelled on vintage cameras and features giant, swivelling eyeballs in place of lenses, which track passers-by, and without their consent, project their images on one of a half dozen monitors nearby.
Trifot is a wry commentary on surveillance and privacy in the 21st century, an homage to observational photography, and the first part in the story of CyberDog, actually a two-story structure with a robotic workstation in its belly and a projection screen wall for a face that switches from transparent to translucent.
"After this process with Trifot, which took about two years – one year for the preparation and one for the actual building, creating and assembling the piece – we found that we were very close to each other in mind-set, that we happened to get on as good friends. So, that was the beginning of the relationship with Marcel Soural, the owner of Trigema. And we were, you know, drinking a lot together! (laughs) And he came up with the idea of creating an architecture studio. So that was the beginning of Black n' Arch."
The other leading half of the Black n' Arch studio – which has grown to include a dozen architects, designers and structural engineers – is architect and urban designer Tomáš Císař. He has a passion for spaceships and has always been drawn to futuristic projects – such as works of Jan Kaplický and the famous 93-metre-tall television transmitter by Karel Hubáček atop Ještěd Mountain, in the shape of a rotating hyperboloid.
"There is in the Liberec school some tradition from Hubáček – if you know Ještěd, the iconic building. It was a very interesting community to join, and that's why I chose to go to Liberec to study. The architecture in Liberec there was always connected with high tech. In the 1970s, the architects there were passionate about it. Ještěd itself looks like a spaceship. It's one of the starting points why spaceships are my passion…. But not really robotics – that came with David."

"It's coming also from the vision of Marcel, the owner of Trigema. He's pretty convinced that robotics and artificial intelligence will be the main theme of the 21st century. This is officially an educational robotic centre, and what we are showing is how we think it will happen very soon – that robotic bartenders will be in place very soon."
And the status of the structure is as a kind of temporary installation rather than a building?
"From the legal aspect, it's a kiosk – an educational and information kiosk about robotics and the implementation into real life."
At the CyberDog Technology and Information Centre – which, again, you could be forgiven for mistaking for a trendy wine bar – the mixologist is a German model. Not in the sense of a Heidi Klum or a Claudia Schiffer, but rather an assembly line model from the firm Kuka Robotics, as Tomáš Císař explains.
"So this Kuka robot – usually, you know these orange guys from factories, basically from the automobile industry. So this is one of the first applications – and definitely the first here in Europe – of a robot serving wine."
So, this model here would normally be found on the assembly line at an automobile factory.
"I think he would be used to do interiors. He's a quite small guy. We actually placed him at eye-level, so like a normal, real bartender.
You keep saying 'guy' – so it's a 'he'?
"It's a good question. I call him 'he'. It could be a 'she' because if you look on the robot, David placed a couple of small details that maybe lead to uncertainty.
I see… So, like these nuts and a bolt.
"Yes… And you can see two eyes that are watching us. One is on the 'arm' and the second is on the 'neck'. You can see some small human retails. Like this armpit. You can spot some other details all around which are a bit hidden. So, it's up to you to discover these tweaks done by David and his team."
For example, the spiral staircase leading up to the "head" of the eponymous CyberDog, for some reason, not only features tiles moulded from computer motherboards but sprouts of "hair". Other human parts, some of a private nature, appear in unexpected places.
For the benefit of listeners who may not get a chance to discover those subtle details, I asked David Černý to reveal a few more. He was not particularly forthcoming on that front, but happy to discuss the greater vision.
I understand from your architect partner that there are many hidden aspects, such as the roving eye, which you pointed out to me and I hadn't yet noticed. Also, on the staircase there seems to be hair?
"Yeah. And if you look at the robot, he has a little hair on himself. And did you mention the trays with the balls? (laughs) There are a couple of other things… You basically have to search for the details."
Are you scared by or generally fascinated with the wave of automation that's coming?
"Well, it's coming. Months ago, I was in the Porsche factory in Stuttgart for some other things, and of course the robots are replacing mechanic workers. It's going to happen. The robots are more precise. They don't cost that much. They don't complain much – that's good. You don't have to pay their social security and s**t like that. It's difficult to sexually harass them… Can you imagine sexually assaulting our bartender (Kuka)? It wouldn't work."
Although there are still a few bugs in the system, Kuka the robotic bartender now reliably delivers the drinks and so-called "galactic" fare that customers of the wine bar – or rather patrons of the educational centre – order via an app on their smartphones using QR codes.
Black N' Arch studio, with Trigema's financial backing, is looking at eventually establishing a small chain and has already been approached to take the CyberDog concept abroad – where to, the partners won't say. But a "version 2.0" is already in the works, at least on the drawing board. On the wish list is a rotating CyberDog head with a mouth that opens in the summer.
But will there always be human staff? Architect Tomáš Císař again.
"I think yes. From the security standpoint, it's still very important that the staff is present – the humans. But maybe in the future you will be alone with your buddy, your robot. I think when the haptic comes it will be more fun with the robots."
"Now, as you can see, there is a protection grid around the robot. I believe the engineers are working now on some sensors that will prevent any clashes with the robots, so you will not need in the future those grids. I think after that, your perception that it's a real bartender, like a human, will be stronger."
And in the coming versions, 2.0 or 3.0, you imagine adding some real AI, where there would be some interaction with the robot?
"I think we are not ready for that. Maybe version 12.0 will have the human interface, the artificial (intelligence) interface."
For the moment, though, human beings are still clearing the dishes and wine glasses from the tables – though you don't have to flag them down to get their attention. All it takes is a click on your smartphone, signalling that your education, for the moment, is complete and you wish to pay your tuition.

Source: Český rozhlas